The Ford Story
A Young Henry Ford


From Henry Ford A Personal History
A New World Beckons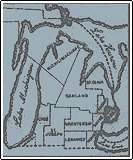 Michigan was a crude world but one of promise to Samuel and George Ford, former tenants on the estate of Madame, village of Ballenascarthy, County Cork, Ireland. It was 1832 when they both arrived from Europe to take up land in Dearborn Township. Behind them in Ireland, their widowed mother, Rebecca Jennings Ford and their older brother John maintained the family tenancy. Samuel and George soon began the continuous battle with the elements, duplicating the experience of all pioneer farm families as they carved a home from the virgin forest.

Samuel Ford died in 1842, but his grown sons carried on the family work, and along with George Ford had become well established by 1847. Cattle, cleared fields planted with crops and rude but substantial homes testified to their industry and persistence. Michigan had prospered with them, rising to a sovereign state but ten years before it was now dotted with small settlements. Detroit had nearly 20,000 people and a thriving waterfront industry was laying a foundation for the future.

Reports from America of personal prosperity and the taming of the wilderness became ever more enticing to the family in Ireland. At last in 1847, the seventy-one year old Rebecca Ford with her married sons, John and Robert, set sail for the new world. The voyage proved especially tragic to John and his seven children, for Thomasine Ford, wife and mother, did not survive the trip. The saddened family, leaving Robert Ford and his family in Canada, continued on to join their kin in Dearborn Township where their sorrow would be eased by the hard work of a new world.

The new arrivals were welcomed and given a home until they could make one for themselves. John was not long in locating Henry Maybury, an old acquaintance from Ireland, who was willing to sell eighty acres of his land to the newcomer. On January 15, 1848, John Ford became a landowner in Redford Township and began to clear the trees for his home, which was to stand on what is now the corner of Joy and Evergreen Roads.

John and his family still faced primitive conditions but the area had improved rapidly since the year of George and Samuel's arrival. Not far away was the flourishing town of Dearbornville with a Methodist church, a sawmill, flourmill, seven stores, two smithies, an iron foundry, railroad stop and some sixty families. To the south on what later became Warren Avenue the sturdy Scotch Settlement had erected a schoolhouse (1839) on the northeast corner of Richard Gardner's land. Within the surrounding area, the population numbered almost 5,000. The frontier period was drawing to a close.

Aided by his sons, John Ford began the arduous task of clearing his land. He and his oldest son William also found employment for their skill with tools in the construction of the westward extension of the Michigan Central Railroad. The money from these efforts was used to raise the mortgage John had taken to purchase the farm and to carry the family expenses until their land could make them independent.

William Ford was a wiry young man of medium height, with high cheekbones and firm bone structure that were characteristic of the Ford family. Born and raised on an Irish tenancy, he had a deep respect for the independent life of the landowning farmer and his persistent industry was directed toward the time when he himself could become a landholder. By 1858, he had saved enough to realize his ambition. On September 15 of that year, he purchased the southern half of his father's farm for $600, while his brother Samuel bought the northern half for the same sum.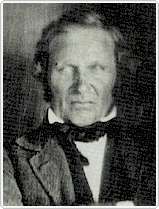 This copy of a tintype (ca. 1850 -55) was copied at the request of Henry Ford in 1924,
and labeled "Mr. Ford's Grandfather." It is quite possible that this is Patrick O'Hern.
In addition to his own farm, William Ford worked for (or with) Patrick O'Hern, a prosperous farmer whose ninety-one acres straddled the junction line between Dearborn and Springwells Townships. O'Hern like the Fords had emigrated from County Cork (1830) to the Detroit area where he married Margaret Stevens on July 15, 1834. Beginning in 1841, the O'Herns purchased land in Dearborn and Springwells Townships and made their home at what is now the corner of Ford and Greenfield Roads.
While at the O'Hern home, William Ford met Mary Litogot, an attractive, dark-eyed young woman. After she was orphaned by the accidental death of her father, Mary Litogot had found the love and affection of true parents in Margaret and Patrick O'Hern.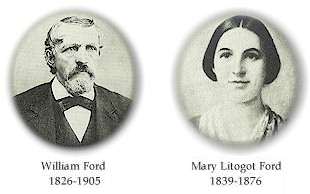 The friendship of William and Mary ripened into romance, fulfilled by marriage on April 25, 1861. Once again, former friends of Ireland shared in the Ford happiness as Thomas Maybury opened his home for the wedding ceremony.

The newly wed couple moved into the rude log structure of the O'Hern home, while William planned and constructed a new house to be occupied by both families. Later in 1867, the entire holdings of the O'Hern family were transferred to William and Mary Ford.

In 1861, the two families moved into their new, seven-room home, an imposing house for its day, to which four rooms would be later, added. William Ford had become the head of the household with a large and profitable farm under his supervision. Soon his appointments as deacon of the church, member of the school board and justice of the peace would recognize him as a valuable member of the community.

It was this background of relative prosperity and mutual affection that was to nurture a boy whose name was to become a household word throughout the world, for it was here in these peaceful surroundings that Henry Ford, son of William and Mary Litogot Ford, was born on the early morning of July 30, 1863.
THE EDUCATION OF HENRY FORD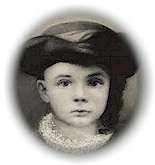 Henry Ford was fortunate in his surroundings and early life. His father was a prosperous, respected citizen of the community, and he grew to maturity in the longest era of peace the young republic had known. Michigan, with the rest of the country was to begin a period of industrial expansion unequaled in history. Boys were to leave the farms as part of a growing urbanization that would not be checked until mass- produced automobiles made possible the suburban movement.

In 1863 these deep and swift running currents of change were still but a springhead, and the childhood memories of Henry Ford were of a simple life. Years later (1913) Henry Ford was to write that his first memory was of his father showing him and his brother John a bird's nest under a fallen oak some twenty rods east of his home. The awakening of the child to the beauty of nature was not accidental, and he was to see his father turn his plow from the furrow to leave a bird's nest undisturbed. In one of his many jot books, Henry Ford had written his own story of this incident. Grandfather O'Hern (as he was called) also taught the child the simple pleasures of nature-the names of the flowers that bordered the field, the trees in the woods, and the feathered and furred creatures that made their homes in the fields and forests near the homestead. A love of nature was a central part of Henry Ford's being throughout his life.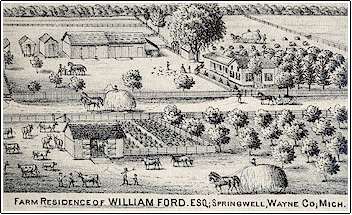 Mary Ford, despite the burdens of a growing family, (John 1865, Margaret 1867, Jane 1869, William 1871 and Robert 1873) found time to instill in the child her own sense of cleanliness and order. She also taught him to read, and when on January 11, 1871, Henry walked 1 1/2 miles to the Scotch Settlement School for the first time; he had already mastered the first McGuffey Reader.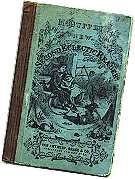 Henry was not a "book-minded" scholar. His interest in mechanics was predominant, and machines were to be his library. However he and his seatmate, Edsel Ruddiman, along with the other children in the neighborhood mastered their three r's in the small brick school of the Scotch Settlement.

In 1873 Henry changed to the Miller School, about the same distance from his home but located to the west in Dearborn Township. He had become curious about the power of steam, and in what was to be his customary approach, subjected his ideas to a practical test. He tied down the lid of an earthen pot filled with water, placed it over the fire and awaited with interest the results of his experiment. The inevitable explosion not only ruined the pot but scalded the curious boy with boiling water. Reprimanded by his mother, his next experiments were more controlled, one of them being a baking powder can steam engine with a watch wheel for a power drive. This was followed by a larger steam engine made in cooperation with his classmates at the Miller School, but once again a boiler explosion proved the power of steam and burned down the Miller School fence in the process.

Watches next attracted his attention and he soon mastered their intricate mechanisms. He had no tools for the delicate task of watch repairing so he made his own; a filed shingle nail became a screw driver, a corset stay became a pair of tweezers and extra knitting needles were similarly adapted by the skilled boy. The small workbench before the window in his bedroom was soon covered with the watches of his friends and neighbors.

Henry's interest in watches was only one phase of his curiosity about all things mechanical, and while watch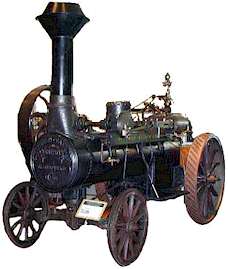 repairing was always to remain his hobby, he discovered the adult world of steam. In July 1876, Fred Reden brought into the Dearborn area the first portable steam engine Henry Ford had ever seen. Reden encouraged Henry's youthful enthusiasm by letting him fire and run the engine. Years later Henry Ford was to testify that this proved to him that he was by instinct an engineer. The same year, Henry's already aroused interest and talent were diverted into new channels when in company with his father he saw a portable engine moving along the road under its own power. The excited youth jumped off of his father's wagon and was examining this new curiosity before the amused and tolerant man was really aware of what had happened. The intensity of Henry's interest is indicated by his own sharp memory of this incident a quarter of a century later. The youth had seen the possibilities of a self-contained, self-propelled vehicle and the vision of a horseless carriage born at this moment was never to leave Henry Ford until success fulfilled his dream.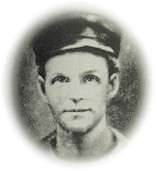 The same year that Henry Ford first realized he had the instincts of an engineer; the Ford family was shocked by the death of the mother, Mary on May 29, 1876. Her quiet forcefulness and strong moral influence had been the guiding spirit for the entire family. In his own words Henry Ford felt that, "the house was now a watch without a mainspring.

Henry Ford had now lost his strongest tie with the family home. Hating the drudgery of farming, he devoted more and more time to mechanical subjects and finally resolved to become a machinist apprentice in Detroit. Although his father regretted Henry's wish to leave what to William was the ideal way of life, he did not oppose his son's decision. At the age of 16 Henry Ford left his father's farm and traveled to Detroit where he could learn what he needed to know about mechanics in order to fulfill his dreams.


The Birth of Ford Motor Company


by

by Ford R. Bryan

Henry Ford was born on July 30, 1863, and grew up on his family's prosperous farm in Springwells Township about seven miles due west of Detroit. He attended school through the sixth grade and in 1879 at age sixteen, without his father's consent, walked into Detroit and obtained work at the Michigan Car Company Works where streetcars were built. Henry's father then arranged for Henry to become an apprentice machinist at the James Flower & Brothers Machine Shop. In 1881, Ford was working for the Detroit Dry Dock Company where he learned a great deal about heavy industry. By 1882 he was back on the farm operating a small steam traction engine for a neighboring farmer, and soon after repairing such engines built by the Westinghouse Company. While home on the farm Henry Ford met Clara Bryant and the two were married on April 11, 1888. They set up housekeeping on an 80-acre farm given to Henry by his father.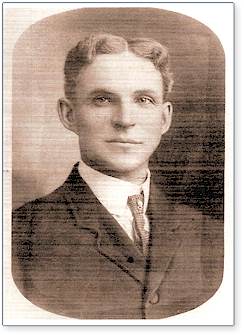 Henry Ford shown here in a Company photo that was taken in 1903 or 1904.
Henry, however, had no intentions of farming the land as his father would have expected. Instead, Henry spent the next two years using a steam engine to cut wood off his land and that of his neighbors. After having built a "honeymoon" cottage on their farm, it was rather shocking to Clara to find Henry, in September 1891, wanting to move to Detroit to accept a $40 a month position as night operating engineer at a substation of the Edison Illuminating Company. The position at Edison appealed to Henry because he would be learning electrical engineering. By October of 1892, Henry was called upon to take charge of maintenance of steam engines in the main downtown Edison Illuminating Power Plant at $75 per month.
Ford was intrigued with gasoline engines. His first simple and crude engine was operating by December 1893, on the kitchen sink of the Ford's rented Bagley Avenue home. On Christmas Eve 1893, with Clara dripping in the fuel, Henry ran the little engine for less than a minute. Thus, Henry had now determined the principles of the gasoline engine.
Henry's maintenance position at Edison now allowed him a great deal of time to experiment in building a variety of gasoline engines. With help from his friends Ford experimented with various engine designs. In considerable secrecy, his first vehicle, the "Quadricycle", was assembled in June of 1896 in the woodshed behind #58 Bagley Avenue.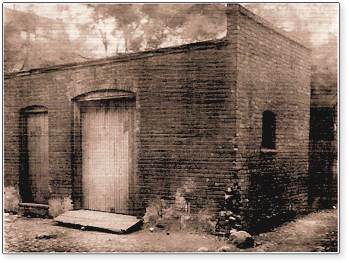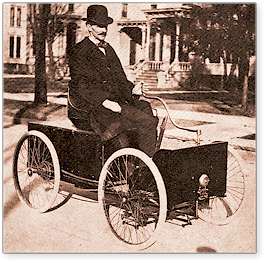 The woodshed at 58 Bagley in which Henry Ford assembled the "Quadricycle" in June of 1896,
and then had to widen the door it get the rig out of the building.
During that same summer, Henry was invited by his boss, Alexander Dow, to attend a meeting of Edison Illuminating Company executives at Manhattan Beach in New York. At the meeting Ford had an opportunity to discuss his gasoline automobile with Thomas Edison. Surprisingly, Edison, who usually advocated electric vehicles, told Ford that with his gasoline engine he was headed in the right direction. Edison's remarks were a tremendous stimulant to Ford. Dow, however, a strong advocate of electricity for motive power, wanted no hazardous gasoline on his property. While still employed by Edison and working on an improved vehicle, Ford began thinking seriously of manufacturing gasoline automobiles. A second Ford vehicle was completed in 1898. Ford found he needed considerable financial help if he were to go into the business of building automobiles. Henry's friend, [Detroit] Mayor William C. Maybury, introduced Henry to many of the notables in Detroit. In July of 1899, Ford had an opportunity to drive wealthy Detroit lumber merchant William H. Murphy on a 3-1/2 hour, 60 mile demonstration ride to Farmington, Pontiac and back to Detroit thus gaining his first strong financial backer.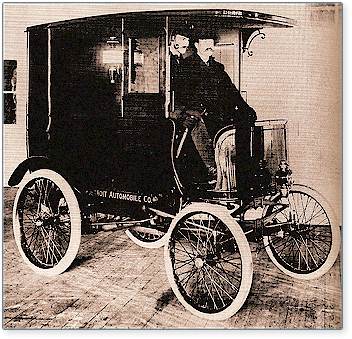 The first product of the Detroit Automobile Company, a delivery wagon, was completed in January 1900, and demonstrated on the streets of Detroit with considerable success.
Funded by Murphy and several of his friends, and with Henry Ford in the position of Superintendent, (receiving a salary of $150 a month) the Detroit Automobile Company was founded on August 5, 1899. The manufacturing plant was to be at 1343 Cass Avenue at Amsterdam in Detroit. On August 15, 1899, Henry Ford resigned from the Edison Illuminating Company, turning down a promised salary of $1900 a year. The first product of the Detroit Automobile Company, a delivery wagon, was completed in January 1900, and demonstrated on the streets of Detroit with considerable success. Major stockholders, however, were pushing for a variety of vehicles and were in a hurry to make profits while Henry was beset by a number of engineering problems. His experience had not included making more than one car at a time. Several cars were produced but not at the quality Ford would have liked and at a price too expensive to sell. Henry received what appears to have been his final check for $75 on October 29,1900. The Detroit Automobile Company was officially dissolved in January 1901. While Henry was with the Detroit Automobile Company, he received a letter from his friend Oliver Barthel, an attorney and draftsman, warning of the Selden patent, a legality with which Henry Ford would soon have to contend.
Henry Ford still had friends in Detroit. Some of the former stockholders of the Detroit Automobile Company retained a portion of the Cass Avenue plant so Henry could build a car of his choice. Ford had been thinking of a racer. His specialty was engines and he was convinced that racing would attract the attention necessary to establish himself in the automotive field. With part-time help from his friends, Ed (Spider) Huff, Oliver Barthel, and C. Harold Wills, he worked around the clock. A lightweight 2-cylinder racer of 26 horsepower was finished in mid-1901. This vehicle is said to have cost about $5000 to build, with much of the cost again covered by Murphy. Ford drove the racer at the Grosse Pointe equestrian track on October 10, 1901, besting Alexander Winton's 40-horsepower machine in a ten-mile race. Ed Huff hung on to a running board, balancing the car on the curves, as speeds reached close to a mile a minute. Ford received a $1000, a cut-glass punch bowl, and much publicity for his victory.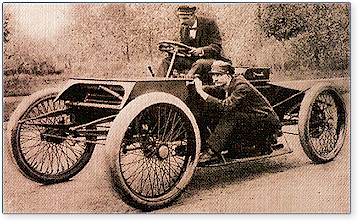 The "Sweepstakes " racer of 1901, with Henry Ford at the wheel and Ed Huff on running board.
With Ford's much enhanced reputation, Murphy and the other members of the Detroit Automobile Company formed the Henry Ford Company on November 30, 1901. Ford was named Chief Engineer with one-sixth of the company stock valued at $100,000. The goal was to build a lightweight runabout to sell for about $1000. But Henry, with "racing fever," spent most of his time on the design of a giant 4-cylinder racing car. Although Murphy had financed the 2-cylinder racer, he did not want Ford working on a larger car. To Ford's annoyance, a wearied Murphy brought in Henry M. Leland, a well respected mechanical engineer, as a consultant.
By March 3, 1902, Tom Cooper, a wealthy and well known champion bicyclist, was in touch with Ford (Cooper and Barney Oldfield had put on an exhibition bicycle race on the day of the Ford - Winton race). Cooper wanted Ford to build him a racer and soon agreed to fund the construction of not one but two cars. On March 10, Ford left the Henry Ford Company with an agreement giving him the use his name, $900 and the drawings for the big racer (Oliver Barthel maintains that he prepared the layout drawings for the racer, with C. Harold Wills making the detailed drawings). With Ford gone, Murphy and backers took charge at the Henry Ford Company. With Leland on board, they quickly reorganizing under a new name, the Cadillac Automobile Company.
In May of 1902, Ford and Cooper arranged for shop space at 81 Park Place in downtown Detroit. The major focus was the building of the two racers, the "999" for Ford and the "Arrow" for Cooper. Both racers were named after two fast railroad express trains of the time. In the shop there were about ten employees working ten hours a day for ten cents an hour. The first race they had in mind was the Manufacturers' Challenge Cup to be held at Grosse Pointe on October 25, 1902. Working on the cars were Ford and his chief helpers, C. Harold Wills, Ed Huff and Gus Degener. When the "999," was ready to test, Ford, Cooper and Huff tried the racer but none was willing to drive it in a race. The car developed somewhere between 80 and 100 horsepower! Cooper got his friend Barney Oldfield to learn- to drive the "999", a task he accomplished within one week. Barney won the race and Ford's name was bigger than ever.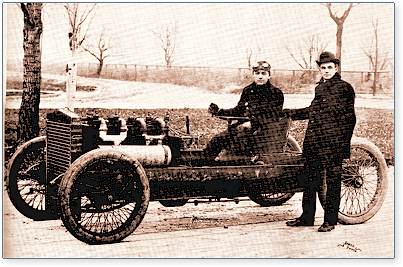 The monstrous "999" Ford Racer
Even before the race in October 1902, Henry had been in touch with Alexander Malcomson, a well-known Detroit coal dealer, in regard to marketing a motor car of simple design. Wills had made drawings of such a vehicle, and a partnership of Ford & Malcomson was arranged to continue work at 81 Park Place. Based on a "Memorandum of Agreement" dated August 20, 1902, details of the partnership were signed by Malcomson and Ford with C. Harold Wills as a witness. Under the agreement, Wills was to receive a wage of $125 a month to be split 50/50 with Ford. In essence, Ford was working as an employee of Malcomson who was paying the bills. In November 1902, the partnership took the name of Ford & Malcomson Company, Ltd. and was capitalized at $150,000 with 15,000 shares at a par value of $10.00 each. A lightweight automobile, which Malcomson was inclined to call the "Fordmobile," was designed and built before Christmas.
Plans to move operations to a larger building on Mack Avenue, leased by Malcomson for $75 a month, were made in January 1903. The move to the new plant took place on May 1, of the same year. On February 28, 1903, Ford and Malcomson, "doing business as the Ford Motor Company," bravely entered into a costly and detailed "Memorandum of Agreement" with John F. Dodge and Horace E. Dodge involving the purchase of 650 automotive running gears at $250 each, totaling a cost of $162,500. Other smaller purchases were at the same time being arranged with other suppliers for car bodies, wheels, and tires. As early as March 25, 1903, for example, 300 sets of automobile wheels were ordered from the W. K. Prudden Company of Lansing, Michigan, to be delivered during the period of April to July 1903. In May of 1903, 100 Runabout bodies at $23 each, and 50 Tonneaus at $24 each, were ordered from the C.R. Carriage Company of Detroit. Tires were purchased from the Hartford Rubber Company at $40 per set of four.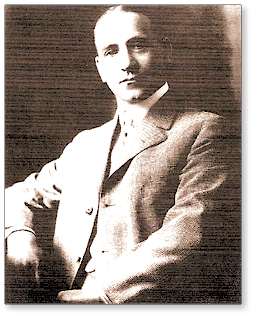 Alexander V. Malcomson, the coal dealer who recognized the mechanical capabilities of Henry Ford, joined him in the automobile business in August 1902.
By March 15, 1903, however, Ford and Malcomson were already in trouble when the Dodge Brothers insisted on payment of $5,000 for their first shipment of automobile parts. Sales of stock in the company had been slow; many of the stocks had been purchased by notes, so there were insufficient funds to handle initial expenses. In such crises Malcomson depended on his wealthy uncle John S. Gray for help. Gray was president of Detroit's German-American Bank and often made risky loans to Malcomson. Gray was willing to receive 105 shares and to be president of the company (during the period Gray was President, Henry Ford was vice president).
One of the prospective stockholders, John W. Anderson, a Detroit lawyer, working for Malcomson, was especially enthusiastic about investing with Ford and Malcomson. In a long letter dated June 4, 1903, to his father, a physician in La Crosse, Wisconsin, Anderson described the plans of the new company in elaborate detail. Apparently his father loaned him $5,000 with which he bought Ford stock on June 27, 1903.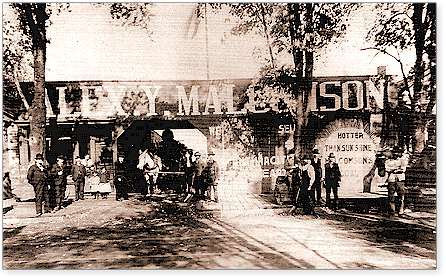 This turn-of the-century view of Malcomson's Coal Yard, located at 149 Griswold, Detroit, show where Henry Ford and 11 other investors signed the incorporation papers for Ford Motor Company, established on June 16,1903. By a quirk of fate, the site is now in the shadow of the Renaissance Center, the huge downtown Detroit hotel, offices and shopping complex spearheaded by Henry Ford II and purchased by GM (General Motors) a few years ago.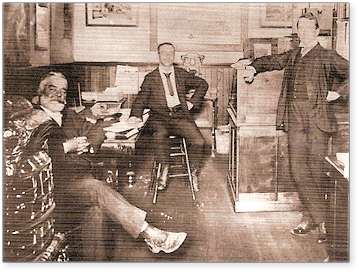 John Gray (Alexander Malcomson's wealthy uncle), Alexander Malcomson,
and James Couzens in Malcomson's coal company office.

During a meeting on June 15, 1903, at the suggestion of Malcomson, the company name was to be officially "Ford Motor Company". "Articles of Association" were filed on June 16, 1903. On June 18, Ford & Malcomson, with assets valued at $51,000, transferred all their holdings to Ford Motor Company in exchange for 510 shares of Ford Motor Company stock divided equally between Ford and Malcomson. At that time there were twelve stockholders owning Ford Motor Company: Ford and Malcomson holding 255 shares each, Gray 105 shares, eight others each with 50 shares, and James Couzens with 25 shares. James Couzens was Malcomson's coal office clerk. C. Harold Wills, held no shares but was to receive one-tenth of Ford's profits which would have been equivalent to about 25 shares.

CLICK HERE: The June 4, 1903, letter from John Anderson to his father explaining
in detail the planned modus operandi of Ford Motor Company.
Some shareholders were active in Ford Motor Company management and others were not. Henry Ford, James Couzens, and C.H. Wills spent full time working for Ford Motor Company whereas stockholders such as Alexander Malcomson, John S. Gray, Charles Bennett, Albert Strelow, Horace Dodge, Charles Woodall, and Vernon Fry were all occupied with their own businesses. At the first meeting of stockholders Mr. Rackham, also a lawyer who had sometimes worked for Malcomson, was elected chairman of the meeting. Mr. Wills was elected secretary. Mr. Rackham read the proposed by-laws. Mr. Ford moved that the by-laws be adopted. Mr. John Dodge seconded / carried unanimously. It is interesting that these by-laws forbade any stockholders to sell shares to any outsider without approval of the other stockholders, and to offer such stocks only to original stockholders in proportion to the shares the original owners already owned.
Election of Board of Directors


Mr. Ford - nominated by John Anderson
Mr. John Dodge - nominated by Mr. Anderson
Mr. Couzens - nominated by Ford, seconded by Mr. Bennett
Mr. Wills - nominated by Ford, seconded by Mr. Bennett
Mr. Anderson - nominated and supported by Mr. Rackham
Neither Malcomson nor Gray participated in the day-to­day activities of the fledgling Ford Motor Company, both had much larger businesses to manage. It is significant that the bulk of the cash used to jump-start Ford Motor Company was supplied by friends and relatives of Alexander V. Malcomson. Henry Ford's contributions included mainly machinery, drawings for the automobile to be built, and several patents. None of Henry Ford's relatives participated in the creation of Ford Motor Company. Only one relative of Henry had helped him financially. It was John N. Ford, a cousin, who let Henry use the John Ford farm as collateral for a loan. In February 1902, Henry purchased from his father the 51-acre homestead farm for $4,000. The loan was quite likely for that purchase.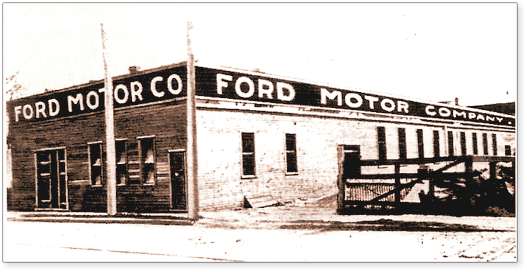 The Mack Ave. Plant at 688-692 Mack Ave. in Detroit, Michigan,
the first Ford Motor Company assembly plant.
The Ford Motor Company was now off and running; but company assents were quickly dwindling. Several of the stockholders had provided promissory notes instead of cash. During June of 1903; Henry Ford, James Couzens and C.H Wills were on salaries, there were also seven hourly workers working ten-hour days, six days a week, for a weekly pay varying from $8.00 to $18.00. On July 11, Ford Motor Company's cash balance was only $223.65. Their first sale was a Ford Model A to a Chicago physician by the name of E. Pfennig on July 15, 1903. Things were changing for the better when Henry Ford celebrated his fortieth birthday on July 30, 1903. Ford Motor Company was hiring many more hourly workers. For the period between July 23 and September 30, 1903, sales of 195 vehicles produced an income of $142,481.72 with net profits of $36,957. Dividends then paid amounted to $10,000. In January of 1904, another dividend of $20,000 was distributed. Profits during the following year rose to over $246,000. The chief competitor of Ford during these beginning years was Oldsmobile who was producing over 3000 cars per year. In the small Mack Ave plant production was limited to about 1700 cars per year. A much larger plant was needed. By April of 1904, attorneys Anderson & Rackham were handling the Ford Motor Company purchase of a Beaubien Street site for $23,500, and overseeing the building of a much larger factory to cost $76,500.
Now that Ford Motor Company was recognized as a successful automobile manufacturer, it was immediately pounced upon by the Association of Licensed Automobile Manufacturers who claimed that Ford Motor Company owed them a royalty on each automobile based on the patent granted to George H. Selden in 1895. Although 27 well-known auto manufacturers including Oldsmobile and Cadillac were paying a royalty on each car; it was Ford Motor Company that refused. Although the court battle lasted for eight years, Ford Motor Company finally won the case.
It is often said that the early success of Ford Motor Company was due to the combination of James Couzens who could not assemble a Kiddy Kar, and Henry Ford who could not manage a grocery store. Together they had the talent needed to make a success of Ford Motor Company.
Historic marker stands where Ford Motor Company was incorporated. Now the site of the Renaissance Center, the huge downtown Detroit hotel, office and shopping complex spearheaded by Henry Ford II.
The Illustrious Vagabonds


by

Dr. David L. Lewis
For several years before and after 1920, Henry Ford, Thomas Edison, Harvey Firestone, and John Burroughs participated in a series of motor camping caravans, which have been described as the first notable linking of the automobile with out-door recreation.

The idea for the camping trips seems to have germinated in a trip by the Fords and the Edisons to the Florida Everglades in 1914. It took firm root in California in 1915, when Ford, Firestone, and Edison motored from near Los Angeles to San Diego.

The group so much enjoyed the freedom and fun of motoring that Edison proposed similar "gypsy" trips in future summers. All agreed.

On an ancient waterwheel in West Virginia in 1918,the Four Vagabonds pose for a cameraman. Left to right are Harvey Firestone, Henry Ford, John Burroughs
and Thomas A. Edison.

Ford, as it turned out, was too busy to join the 1916 expedition, which included the naturalist John Burroughs. But the auto king joined the 1918 outing to the Great Smokies, and at once became the dominant spirit of this and later excursions.

The 1918 "Vagabonds" (as the campers styled themselves) were Edison, Firestone and his son, Harvey, Jr., Ford, Burroughs, Professor R. J. DeLoach, an expert in plant pathology, and for a time Edward N. Hurley of the United States Shipping Board. They moved along in six cars-two Packards for riding, two Model Ts, and two Ford trucks-plus seven drivers and helpers.


Shaving time on a summer morning in 1921 in the Great Smokies. Left to right: Henry Ford, Bishop William F. Anderson, Harvey Firestone (stooping). Thomas A. Edison and President Warren G. Harding. Ford seems to be managing without a mirror, perhaps in deference to the President who is making use of one. Bishop Anderson, fully dressed, apparently was an early riser. Firestone, Edison and the President display a variegated assortment of undershirts.


The picture is dulled by age, but the action is lively as Henry Ford swings
from the left on a tree destined to provide fuel for the vagabonds' campfire.

The 1918 trip covered a lot of ground, for the vagabonds drove from Pennsylvania down through West Virginia to Tennessee, and then swung over to North Carolina, Virginia, and Maryland, This trip set a pattern for those to follow. In 1919 the party swung through northern New York, Vermont, and
New Hampshire. Along the way the group visited a power site Ford had purchased at Green Island on the Hudson River. A camping trip was omitted in 1920, although the group had a fall outing at Yama Farms, New York. Then the wives demanded a share in the adventure, and in 1921 a journey through Maryland and Pennsylvania saw Mrs. Edison, Mrs. Ford, Mrs. Firestone, Mrs. Harvey Firestone, Jr., and Mrs. W. F. Anderson (wife of Methodist Bishop William F. Anderson) with the party, as well as President Harding. Mrs. Harding had been invited but could not go.

In 1923 the party visited President Coolidge in Massachusetts, and in late April, 1924, on a journey across the upper peninsula of Michigan, Ford acted as engineer and Firestone as fireman for a train which carried the Fords, Edisons, Fire stones, and Edsel Fords to various Ford properties - Iron Mountain, Sidnaw, and
L ' Anse among them. Later in the year all assembled as Ford's guests at the Wayside Inn, in Massachusetts, and the men called upon Coolidge in Plymouth, Vermont, who made Ford a gift of a four gallon maple sap bucket, fashioned about 1780 by one of his ancestors.

The group, as Burroughs noted in his diary, craved direct contact with nature, and "cheerfully endure wet, cold, smoke, mosquitoes, black flies, and sleepless nights, just to touch naked reality once more." But the party did not exactly rough it. No one slept on a bed of boughs or subsisted on fish caught in the stream. Separate sleeping tents, each with the occupant's name on it, were provided, Of the army type, about ten feet square, the tents had mosquito netting flaps sewn in the front and were suspended from what is now called by the camping industry "the modern outside frame system." A dining tent about twenty feet square, set up convenient to the sleeping tents, was the fore- runner of the "additional room" tent found today.

One of the most useful pieces of equipment -- and one which would be welcomed by many camping families today -- was a large, circular dining table, nine feet in diameter, and surmounted by a large Lazy Susan which the diners could rotate to reach any of the many dishes served at each camp meal. Large as it was, this table folded into a tiny package that could be slid into a crevice of the baggage truck.

The Lazy Susan can be seen today at the Henry Ford Museum. The signatures of President Harding and other members
of the party have been preserved under clear plaques, and the table is over-looked by a huge wall photo mural of the party scene.





Henry Ford tries his hand at cooking flapjacks.
At the rear are two of the special trucks which accompanied the campers.


The wood and canvas camp chairs (also displayed in the Museum) were of a design known as the modern "sling, or butterfly, type," but with a folding feature allowing them to be stowed in a small space. New-fangled gasoline stoves were taken along, but the preference of all was an old-fashioned wood fire, and so the campers devised a grill made of two iron bars with hooks to hold the cooking pots.

A basic supply of food staples was carried in the kitchen truck and the steaks, ham, bacon, vegetables, and the fresh eggs, milk, and cream favored by the group were bought along the way from farmers. Frequently local people dropped by the camp with gifts of apples or watermelons. An employee regularly returned to town for Ford's special bread. Noonday meals and generous rest periods were held at pleasant wayside areas that were early counterparts of today's roadside table parks. The 1922 Lincoln kitchen truck used on the safaris is currently on display in the garage at Fair Lane while a White truck that carried tents and equipment, is on display at the Henry Ford Museum.

Records of the various trips reveal how the campers spent their time. Burroughs frequently would have his tent placed apart from the rest so he could meander, in linen duster and with long white beard flowing, among the local plants and creatures. When the party came upon small industries, Firestone would speculate on how modern methods could improve their production. Ford and Edison, if he wasn't reading in the front seat of the touring car, would walk along a stream edge, conjecturing as to its electricity-producing possibilities. At one mountain lumber camp the group clambered aboard a logging locomotive for a ride with Ford at the throttle.



Henry Ford in cowboy hat and neckerchief, poses outside his tent.

Ford chopped wood for the fires, around which the party sat after supper . The auto king also displayed his ingenuity as a handyman. At a garage in Connellsville, Pennsylvania, where an unscheduled stop had to be made for repairs on a Packard, the manufacturer fixed a radiator and fan after local mechanics had advised that it couldn't be done. The large sidewalk audience of townspeople was impressed! Edison often gathered rocks, breaking them with a hammer to ponder the possibility of extracting the valuable minerals they contained. Ford and Edison bathed in creeks without hesitancy, but Firestone showed a preference for washing at a hotel whenever one was near enough to permit it.

The Vagabonds were accompanied by newsmen and photographers who reported each man's every move and hung on his every utterance. Almost all of the newspapers in the country reported and theaters showed Ford, Edison, and Burroughs engaging in high-kicking, stair-jumping, sprinting, tree-chopping, and tree-climbing contests. On one occasion, Edison, at age 71, kicked a cigar off a mantle in a hotel lobby three straight times, Ford, 55, once, with Burroughs, 81 , unable to connect.



Henry Ford clowns while Thomas Edison beams during a rest stop on a camping trip. This picture is probably the only one
ever taken of Ford with a cigarette.
The auto king and Edison both abhorred
the use of "little white slavers,"
as they called cigarettes.

In a stair-jumping contest, Ford bounced up 10 steps in two hops; Edison needed three steps, while Burroughs, still game, lost his balance and had to be rescued by onlookers. But Burroughs was the champion tree cutter-- felling a tree in four minutes flat, a few seconds ahead of Ford.

As the group moved along, headlines blazoned, "Henry Ford Demonstrates He's Not Afraid of Work; Repairs His Damaged Car," "Millions of Dollars worth of Brains Off on a Vacation," "Genius to Sleep Under Stars," and "Kings of Industry and Inventor Paid City Visit." Columns were filled with stories and trivia about the famous quartet. The Chicago Tribune, still smarting from its defense of the libel suit which Ford had successfully brought against it, was perhaps the only paper in the country to take issue with the United Press' news judgment in sending the following comments over the wire in 1921:

Gathered around their Lazy Susan camp table near Hagerstown, Maryland in 1921, clockwise from just left of the tent pole, (some partially hidden) are William F. Anderson, Methodist bishop of Ohio; Harvey Firestone Sr.; George B. Christian. Jr.; Mrs. Thomas A. Edison; Thomas Edison; Mrs. Henry Ford; President Harding; Mrs. Firestone, Sr.; Henry Ford; Mrs. Anderson; Edsel B. Ford; Mrs. Firestone, Jr.; Harvey Firestone, Jr. and Russell A. Firestone.

"Do you think Mr. Harding can put this disarmament program over?" Ford is said to have asked Edison.

"I think it will depend upon money. If Harding can keep them from getting the money he'll succeed with his program."

"The common people around the world will back him on that," interposed Mr. Ford-the man who envisioned the peace ship.

Mr. Firestone contributed his fear that Mr. Harding was going to meet subtle op- position, at which Mr. Edison said slowly, "The motives of men are unfathomable," and Mr. Ford brought the curtain down on this memorable occasion with, "Humph, you said it."

This photo was taken on August 5, 1919 during the vagabonds' camping trip, and shows Henry Ford carving his initials on the stone which became the cornerstone of his manufacturing plant at Green Island, New York, which to this day is the key plant of Ford's Engine and Foundry Division. Others in the picture include Thomas A. Edison, holding cap; Harvey Firestone, standing behind Mr. Ford; John Burroughs, the bearded naturalist and writer, on Mr. Firestone's left; Cornelius Burns, then mayor of Troy, N.Y ., in which the plant is located, on Mr. Firestone's left; and James R. Watt, then mayor of Albany, standing between Messrs. Edison and Ford. Photo from Ford's Green Island Plant.

According to Burroughs, Edison was the "intellectual" among the travelers, although Burroughs disagreed with the inventor when he claimed Evangeline and Les Miserables were the greatest works of poetry and fiction of his time and again when he proposed that Shakespeare be translated into "plain English."

The last camping trip took place in 1924. "The trips were good fun," Ford wrote in his autobiography, My Life and Work, "except that they began to attract too much attention." Ford's statement, however, belied his interest in the publicity received by the group. In 1918, for example, he requested that a typewritten report, containing verbatim news stories from all papers in the six states through which the party traveled, be prepared for his perusal. Similarly, it is difficult to believe that many of the contests and hijinks in which the aging vagabonds participated were not staged for the benefit of the nearby reporters and photographers (Edison, little less than Ford, was appreciative of publicity and a top-notch publicist). As Charles E. Sorensen wrote in My Forty Years with Ford: "With squads of news writers and platoons of cameramen to report and film the posed nature studies of the four eminent campers, these well- equipped excursions...were as private and secluded as a Hollywood opening, and Ford appreciated the publicity."

The trips also had become a formidable undertaking by 1924, what with the wives of the men coming along. The introduction of the women conventionalized the expeditions; they could not be as informal as they had been without them. Mrs. Ford took along a cook, Mrs. Edison a personal maid and chauffeur, and the Firestones a butler and a driver. Harvey Firestone, Jr. also took along riding horses; Ford didn't care for that. In addition, by 1924, the three surviving members of the original group (Burroughs had died in 1921) were older and, in the case of Ford and Firestone, busier .

Although the vagabonds camped no more, the publicity surrounding their expeditions acquainted millions of people with the pleasures of motor camping and undoubtedly inspired many auto owners to follow their example. The Vagabonds thus were the avant-garde of the countless vacationers, trailers in tow, who annually take to the highways, and of the huge recreational industry which serves them.